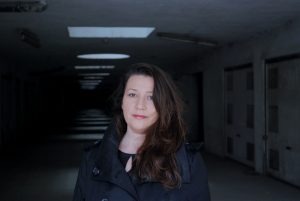 Donika Rudi (1982) is a Kosovar composer specialized in acousmatic, electroacoustic music. Since 2010 she is a member of FEBEME – BEFEM (Belgian Federation for Electroacoustic Music) and a member of CEC (Canadian Electroacoustic Community). She is Artistic Director of ReMusica Festival in Kosovo, since 2010 and Associate Artist at IN SITU – European Platform for artistic creation in public space, led by Lieux publics in France (2020 – 2024). 
Rudi studied composition ( instrumental and electroacoustic music) at Geneva Conservatory . She finished MA at Royal Conservatorium of Mons, Belgium, respectively composition in acousmatic music with Annette Vande Gorne. 
Her most important works are: Contemporary Ballet "Life in Slow Motion", premiered at the National Theatre in Prishtina; "Ode to Life" acousmatic piece / sound installation, supported by IN SITU platform, in the frame of the ACT project, co- funded by the Creative Europe Programme of the European Union "The echoes of the Crying Earth" acousmatic piece; "Emotion Machine" acousmatic piece; "Unspoken" acousmatic piece; "9" for amplified trombone & tape; "Emotion Machine I and II", supported by Federation Wallonie Bruxelle; "Aura I" for violin, viola, mezzosoprano, soprano, percussions & electronics; "etc.
She also composed music for numerous drama plays and films, documentaries and shorts.  In the Name of the Father documentary-dance piece, SARABANDE documentary, INSANE – participative and immersive project mixing installations, soundscapes and  performances, just to name a few.
Her compositions have been performed in France, Columbia, Switzerland, Portugal, Kosovo, Albania, Italy, Australia, Bulgaria, Serbia, Canada, Spain, Belgium etc. Her compositions were aired on Radio Spain – UNDÆ! Radio, France Musique (at Christian Zanési radioshow), Dutch National Radio (Café Sonore), "Sonema Lab", Portugese National Radio (Arte Eletroacústica) … Click here for WORKS